Inspection Standards to guide prison inspections
The Inspection Standards were updated in March 2023 with the addition of Leadership Standards.
News story from 28 February 2020 follows:
(Note, general information about the Inspection Standards has been translated into Māori, Samoan, Fijian, Tongan and Chinese and is available below.)
The Office of the Inspectorate Te Tari Tirohia has released its Inspection Standards, which guide the way prisons are inspected.
The Inspectorate began a programme of inspections of all 18 prisons in early 2017, which was completed late in 2018. A programme of follow-up prison inspections started in 2019.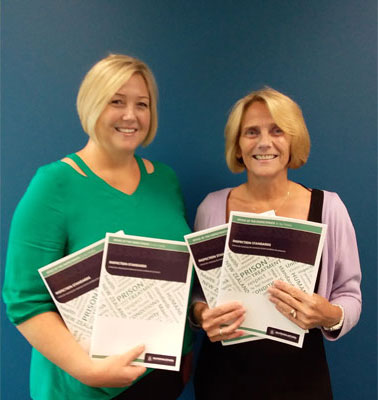 "Inspections provide a 'window into prisons', giving early warning of emerging risks and challenges, and highlighting areas of innovation and good practice," says Chief Inspector Janis Adair. "Inspections play a critical part in ensuring independent oversight of the corrections system."
The Inspection Standards describe the standards of treatment of prisoners and conditions that prisons are expected to achieve.
Assessments are guided by four key principles: safety, respect, purposeful activity and reintegration. Inspectors are required to consider 10 areas of prison life: reception and admission, first days in custody, escorts and transfers, duty of care, health, environment, good order, purposeful activity, reintegration and prison staff.
"The Inspection Standards guide inspectors to deliver independent and objective assessments," says Ms Adair. "We want staff who work closely with or in prisons to know about the Standards, so there is a shared understanding of how inspections take place."
Specific standards have been introduced to acknowledge the needs of Māori. This aligns to Ara Poutama Aotearoa's transition to Hōkai Rangi.
The Inspection Standards derive from the United Nations Standard Minimum Rules for the Treatment of Prisoners ('the Nelson Mandela Rules') and HM Inspectorate of Prisons Expectations (England's equivalent criteria for assessing the treatment of and conditions for men in prisons). They also include gender-responsive standards for women and transgender prisoners.
The Inspectorate consulted widely with stakeholders when developing the Inspection Standards, and they will be reviewed from time to time to ensure they remain fit for purpose.
Caption: Chief Inspector Janis Adair (right) and Principal Inspector Rebecca Gormley with copies of the Inspection Standards.